Latino Consumers in San Diego
Receive "Frequent" Motivation
to Buy More Fruits and Vegetables
With the help of the Latino 5 a Day Campaign in San Diego, local retailers have begun implementing a "frequent produce buyer card" to increase the purchase of fresh fruits and vegetables in low-income Latino neighborhoods. The promotion was developed through a nutrition education collaborative between the Regional Latino 5 a Day Campaign and Aventuras para Niños, a community based organization focusing on health education and outreach to low-income Latino families. The wallet-sized cards were created so that customers could present them each time they purchase fresh fruits or vegetables at select grocery stores.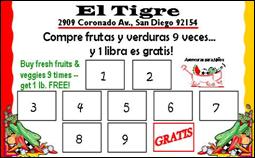 After nine purchases, the customer receives one free pound of a fruit or vegetable of their choice. A promotional message to "Eat Fruits and Vegetables and Be Active" as well as an awareness of the Food Stamp Program is printed on the back of each card in both English and Spanish.
The frequent buyer cards were tested during the fall of 2005 as Aventuras para Niños promotoras proposed the program to owners or managers of grocery stores near participating schools, especially those where study participants had reported shopping. The greatest response was from locally owned businesses, and the program was implemented in five stores in Chula Vista, San Ysidro and Imperial Beach. According to David Cázares of El Tigre supermarket, "This is just the beginning. We have already seen many of our customers using the frequent cards to purchase produce. That means they are eating healthier, and that's important." The cards have also proved very popular with Latino consumers in South San Diego. To date over 4,000 frequent buyer cards have been distributed to low-income Latino consumers providing an added incentive for parents to create a healthier home environment by making fruits and vegetables more readily available. The successful promotion developed as an outgrowth of the Campaign's successful retail promotions program which provides consumers with the skills needed to purchase and prepare healthy food.
To find out more information call to 619-681-0684 and to get the card, visit the following grocery stores:
• Mercado Internacional -  
2000, 1415 3rd Ave., Chula Vista 91911

• La Bodega - 1193 Broadway, Chula Vista 91911

• La Bodeguita- 4174 Beyer Blvd.,
San Ysidro 92173

• El Tigre- 2909 Coronado Ave., San Diego 92154

• Wally's Marketplace - 836 Palm Avenue, Imperial Beach 91932
ABOUT US : i..................................................................sorders Awareness
Salud + Health Info is for information and educational purposes only. You should not rely on this information as a substitute for personal medical attention, diagnosis or hands-on treatment. If you are concerned abut your health or that of a child, please consult your family's physician or health provider immediately and do not try to diagnose yourself.

Salud+Health Info is published and distributed free of charge by Information Option Network (ION) Publishing Company. All rights reserved.Copyright © 2001-2006 Info Option Network. ION reserves the right to edit all information provided to the publisher as it deems necessary with regard to legal, public health, State, Federal, International other standards for the proper publishing of this periodical. We reserve the right to refuse articles and advertising at any time. No reproductions of this magazine by any means are permitted without the express written consent of ION Publishing Company. ION has no affiliation with any health organization or political group. ION is not responsible for the claims of advertisers, or the variety of submitted written articles.