Scams Impacting the Hispanic Community
---
....County officials are alerting the public about a group of scam artists known to be targeting elderly residents in the county, particularly seniors in the Hispanic community.
The San Diego County District Attorney's Office, the County's Health and Human Services Agency and other local law enforcement agencies are currently investigating several reports of this scam; at least two have occurred in South Bay.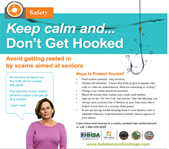 Please click on image to enlarge, download and print (PDF)
"Sadly, seniors too often fall prey to heartless scam artists looking to make a fast buck," said District Attorney Bonnie Dumanis. "Our elderly population can be too trusting and by the time they tell someone something's wrong, their money is long gone."

The "Pigeon Drop Scam," is a confidence trick where the victim is persuaded to give up a sum of money to secure a larger sum of money from supposed lottery winnings. These scams are often performed by one or more criminals in a retail shopping area or other public places. There are many variations of this scam, but recent cases usually involve three suspects: a Hispanic female in her 50s; a Hispanic male in his 30s; and a third suspect who only interacts with victims over the phone.
The suspects approach victims in different public areas in the community, such as a trolley station or laundromat. They engage with them, often in Spanish, telling the victim that one of the suspects has won the lottery but needs help to collect their winnings. One of the suspects calls the "lottery official" which is when the third scam artist says on the phone that good faith money is, in fact, needed in order to receive the winnings. The suspects also promise to share a portion of their lottery winnings with the victim.
"We value our long partnership with the District Attorney's Office, which has been in the forefront of fighting to prevent crimes against older adults, not just prosecuting the criminals," said Ellen Schmeding, director of HHSA's Aging and Independence Services. "Together, we hope to make seniors throughout our County better informed about the tricks used by scammers and help them avoid becoming victims."
If you are approached by someone claiming to have won the lottery, or that a large amount of money was found and that person is offering you part of the earnings in exchange for "good faith" money or valuables, here's what to do:
Earlier this year, Dumanis, along with County Supervisor Dianne Jacob, Health and Human Services Director Nick Macchione and Schmeding, rolled out an outreach campaign including TV spots and a Senior Scam Stopper toolkit aimed at educating San Diego's older residents and their families about how they can protect themselves from a myriad of financial scams online, over the phone, and in the mail.
"Raising awareness is one of the best ways to prevent a scam from ever taking place," said Supervisor Dianne Jacob. "We all need to be on the lookout, especially when it comes to protecting vulnerable family members."
"Talk to your family and friends and let them know about this scam so they don't lose their hard-earned money," said County Supervisor Greg Cox, whose District One includes South Bay.
The "Don't Get Hooked" Toolkit is now available in Spanish, with examples of additional scams targeting the Hispanic community, such as the "Pigeon Drop Scam" and "Immigration Scams," along with tips and local resources to help avoid becoming a victim. There is also a TV spot currently running in local Spanish-language channels, in which Father Michael, a senior scam victim shares his story.
"As we have learned about the unique scams impacting the Hispanic community, we have tailored the prevention messages to better fit their needs and created the "¡Que No Lo Engañen!" toolkit to address these concerns," said Schmeding.
You can get a free copy of "¡Que No Lo Engañen!" at the District Attorney's offices in Downtown San Diego or in Chula Vista. You can also download the toolkit online, by visiting:SafeSeniorsSanDiego.com.
There is general information about elder abuse, plus you can make a click the "¡Que No Lo Engañen!" link for more information just about scams, plus the link for the toolkit.