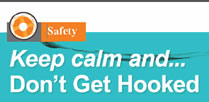 "By the time we found the truth, all her money was gone." Paula
New Campaign to Fight Scammers
Who Seek to Snare Seniors
---
....Paula's mother-in-law couldn't sleep as she worried about her grandson, Will. An offi cial from Peru called to alert her that Will was responsible for an accident where a toddler died.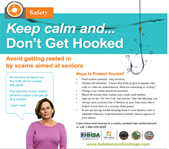 Please click on image to enlarge, download and print (PDF)
He was in jail and faced 10 years in confinement. If she provided money, that sentence might be reduced. She needed to act quickly and not involve anyone else; the woman followed all their instructions. She lost $65,000 of her retirement savings in a blink of an eye. Will hadn't been anywhere near Peru. She had been snared by the Grandma Scam.

Paula wishes she and her husband had alerted their elderly relative to this type of scam. The woman might have thought twice about following those orders. Thankfully, an alert bank manager stepped in while the woman was trying to get a loan to send even moremoney to the scammer.
Paula is sharing her family's story so that other older adults don't suffer the same consequences. The District often randomly "fish" for victims. They purchase information from other scammers, scan through Facebook postings, and just make random calls.
County offi cials hope that if people are alert to the techniques used by scammers, they won't take the bait. Instead when receiving an unexpected call, visitor, email or letter that involves money, people are urged to:
Hang up! Don't open the door! Delete it! Shred it!
At the very least, seniors and others should seek the advice of someone they trust before taking any action.
As part of the campaign, public service announcements are airing on local TV stations, featuring Paula and another scam victim, Father Michael, who lost $40,000 in a lottery scam. There will also be radio segments and advertising in community newspapers. The videos and the "Don't Get Hooked" toolkit are available online by visiting:SafeSeniorsSanDiego.com.
There is general information about elder abuse, plus you can make a click the "Don't Get Hooked" link for more information just about scams, plus the link for the toolkit.
Photo:Paula (center) at press conference; joining her, from left, AIS Director Ellen Schmeding, Supervisor Dianne Jacob, District Attorney Bonnie Dumanis, HHSA Director Nick Macchione and DDA Paul Greenwood.
People who have already lost money from a scam should contact local law enforcement or call Adult Protective Services at:
(800) 510-2020.