Vital Aging 2015
Vital Aging 2014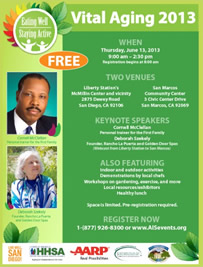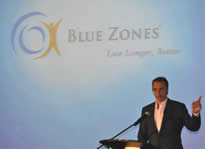 Keynote Speaker :
Dan Buettner, National Geographic Writer and Explorer,
Best Selling Author, "Blue Zones: Lessons for Living Longer from the People Who've Lived the Longest"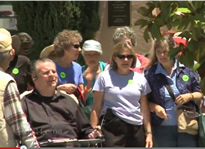 Vital Aging 2013 Event a Huge Success
---
Thousands of folks enjoyed the Friday, June 13 Vital Aging conference, which was staged simultaneously at two venues;Liberty Station, San Diego, and San Marcos Community Center by the County of San Diego Aging and Independence Services, in conjunction with many community and county agencies and variety of organizations.
The event drew responses from attendees that were overwhelmingly positive. They enjoyed hourly skill-sharing demonstrations, health screenings, and booths with information ranging from health plans, and raising grandchildren, to adaptive telephones, and several workshops. The skill-sharing demonstration workshops were a great source of opportunities to learn and share about growing, cooking and eating healthy foods. Healthy cooking workshops demonstrated cooking techniques and shared nutrition tips and recipes,while the Garden Zone demonstrated how easy and simple it is to plant vegetables in containers, with workshops on how to start a vegetable garden, how to garden anywhere, and even discussions on the many easily-grown herbs that add unique flavors to any food, and can reduce the use of salt. Another popular offering was the Fit Zone,where folks danced, stretched, exercised while sitting or standing, and enjoyed different levels of Yoga.
Fair-goers crowded in and filled up the conference room twice to listen to remarks by from Greg Cox, Chair of the County Board of Supervisors, HHSA Director Nick Macchione, Aging and Independence Services Director Pamela B Smith, and two terrific keynote speakers.
The first speaker was Debora Szekely, founder of Rancho la Puerta and The Golden Door, who at 91 continues to promote healthy choices and ways to incorporate them into our busy lifestyle. Her main advice is to develop a passion for life.When you have a passion in life, she shared, especially a passion fueled by vision and purpose,you can wake up each day with that same joy and enthusiasm.
"When you're engaged in something that is fulfilling, fun, and meaningful, you are truly in the flow of 'peak experience' living," said Szekely.
She noted that physical exercise helps brain cells to develop richer, more extensive connections which allows them to receive important nutrients and oxygen. Szekely ended by saying, "We need to connect with friends, and keep moving,so we can incorporate the all-important oxygen, which is even more necessary than food, in order to be 'body and brain alive.'
No matter where you stand politically, you have to admit that the Obamas stay in great physical shape. The man credited with getting them there, Cornell McClellan, a 55-year-old grandfather and personal trainer for the First Family as well as a member of the President's Council on Fitness, Sports and Nutrition, was our other keynote speaker for the day. He notes that as we age, we lose mobility and start to gain weight, and invites everyone to move; start slow - walking is a great exercise - and then challenge yourself. The more we can do, the better we will age, according to Cornell; fit older adults have better memories, and retain key brain regions of learning and memory longer. Cornell also mentioned how even one small change can cause a positive ripple effect in our life. And to further encourage us, he adds, "It's never too late! The body and muscles will regain their strength…the body is forgiving. If your body can forgive you, you can forgive yourself!"
So...
What were people saying?
"What a great venue, great keynote speakers, what great food, and what a great event. The event exceeded all expectations and we are very grateful to you and the entire staff for making our life easy, and healthier," and "AIS and partners thank you for all your hard work. Everyone had a great time and loved every aspect of the event. This Vital Aging 2013 was a great success! I'm looking forward to next year: Vital Aging 2014!"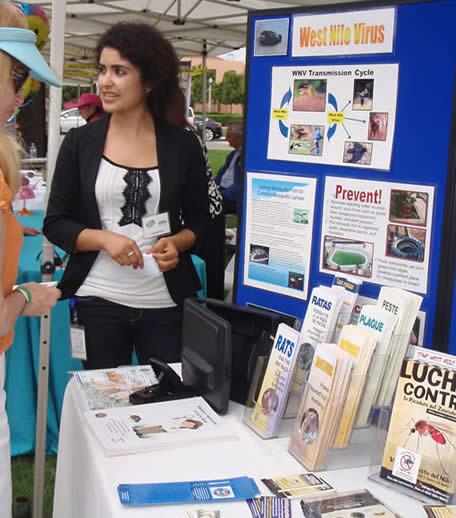 ..
This page en Español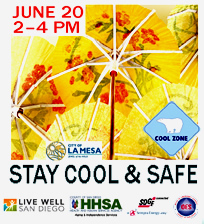 Vital Aging 2013 was an excellent way to energize the community and to invite participation from a wider range of San Diego county residents.
The next event on September 7, 2013 is: "Grandparents Raising Grandchildren".
Grandparenting can provide continuity, values, traditions, and success in a child's life.
"Grandparents Raising Grandchildren" is planned especially for our community's elders who struggle with parenting issues that are far different from their parenting time.
"Grandparents Raising Grandchildren" is especially for our community's elders trying to keep up with the day-to-day details of their grandkids' lives, and will offer information from housing, parenting, safety, legal rights, and other expert assistance in resolving grandparenting issues.
This event will encourage an InterGenerational (IG) bridge of education so that community members learn to make IG teams where more people can reach out to share skills that younger generations have yet to learn.
The idea is to reach out to IG families, help them with their own unique issues, and create IG teams where elders can learn to share their skills and their "gold" with younger generations.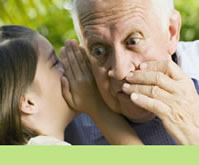 Grandparents Raising Grandchildren
For generations, grandparents have passed down life lessons to their grandchildren, from teaching them how grandparents have passed down life lessons to their grandchildren- from teaching them how to throw a baseball to how to bake cookies.But...
..Remember to save the date 09-07-13 on your calendar and watch for it!