"Live Well, San Diego!: A Healthy Community For All Ages"
By Generations United

..With three million residents strong, the County of San Diego believes in the need to support intergenerational connections. In 2001, it backed up that belief with serious funding by adding a full-time staff position of Intergenerational Coordinator at the county's department of Aging & Independence Services (AIS). That investment has paid big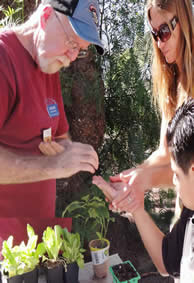 returns: through intergenerational programs it has employed residents' strengths to expand services and address serious challenges.
.....In San Diego today, all types of county services and programs have an intergenerational aspect. Libraries and Parks and Recreation offer intergenerational art, math, reading and jazz programs. Older adults take part in a Workforce Academy for Youth, mentoring foster youth for six months as they get ready to leave the foster system and join the work world. Young people have the opportunity to join the Legacy Corps Program where they serve caregivers and learn about the aging process.
.....On June 15 county agencies, non-profit organizations, for-profit agencies and faith communities will conduct a summit: Live Well, San Diego! Building a Healthy Community for All Ages. Speakers and activities will focus on how to make healthy choices and create living environments that encourage safe, active lifestyles.
.....San Diego's efforts have resonated well with residents of all ages. As retired volunteer and community gardener Rich Rogers noted, community gardening "has turned into a labor of love. Gardening is as "grass roots" as you can get and teaching and mentoring kids of all ages increases my desire to be a positive influence and asset in my community."

Navy Physician to Speak at Summit
Information provided by Aging and Independence Services

...When Lt. Commander Sunny Ramchandani, MD, joins the stellar list of speakers for
the "Live Well, San Diego! Summit: Building a Healthy Community for All Ages". Dr. Ramchandani, Medical Director for the Naval Medical Center San Diego, was a White House Fellow assigned as the Chief Medical Officer at the U.S. Office of Personnel Management where he helped design a strategy to improve health care delivery among federal employees. He mentors young physicians on how to address today's healthcare challenges.
Living Well Means Including All Ages

..By Pamela B Smith Director, Aging and Independence Services
.....Youngsters may not be able to spell "intergenerational," but they know what it means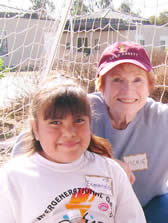 to have extra time and attention from an older adult who also values that interaction. The concept of intergenerational programs is simple: Bring youth and older adults together for their mutual benefit. Our society needs older adults to mentor the future generations, and youngsters can teach their grandparents' generation a thing or two, particularly about technology.
.....Intergenerational used to be the way our families were. Many ages lived together, learning from one another, helping out. But that lifestyle is more uncommon now. Both ends of the age ... . Continued
Richard Dreyfuss to Speak at Summit

.By Denise Nelesen LCSW, Aging and Independence Services
.....Actor Richard Dreyfuss will be the keynote speaker at the "Live Well, San Diego!
Summit: Building a Healthy Community for All Ages". One of his notable roles was as the teacher in Mr. Holland's Opus, for which he received Academy Award and Golden Globe nominations. At 29, he won the Best Actor Oscar for The Goodbye Girl. He also starred in The Apprenticeship of Duddy Kravitz, Jaws, and Close Encounters of the Third Kind.
In his personal life, Dreyfuss has been a political and social activist. He sits on the board of the National Constitution Center in Philadelphia, which built the first national museum dedicated to our Constitution. He has also spoken in venues across the country about the need for civic engagement.
.....Another featured speaker will be Nancy Henkin, director of the Intergenerational Center at Temple University that has developed a range of cross-age programs, including: Five and Fit: Mobilizes older adults to fight early childhood obesity; and Project Shine: College students from diverse backgrounds help older immigrants acquire citizenship.
HHSA is coordinating the Live Well, San Diego! Summit set for Friday, June 15, from 9 a.m. to 2 p.m. Registration at 8 a.m.
The event will be held at the following locations:
•Town & Country Convention Center, 500 Hotel Circle North, San Diego 92108. This will be the main site. Speakers will be live here and webcast to the four other locations.
• Ronald Reagan Community Center, 195 E. Douglas, El Cajon 92020.
• California Center for the Arts - Escondido, 340 N. Escondido Blvd., Escondido 92025.
•Sheraton Carlsbad Resort & Spa, 5480 Grand Pacific Dr., Carlsbad 92008.
• Chula Vista Middle School, 415 5th Ave., Chula Vista 91910.
Sponsors include HHSA/Behavioral Health, AARP and Kaiser Permanente.Registration is required. Call the AARP Registration Line at (877) 926-8300 or visit www.AISevents.org

Generation Learning from One Another
By County of San Diego Health and Human Services
..Would Aaron's students are at least 45 years older than he is. He has learned to be patient with them, even when they want to yell and throw what they're studying out the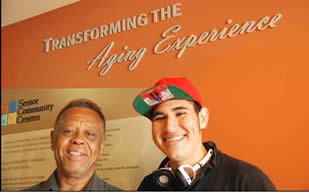 window.
"I tell them to relax, take a deep breath, we're going to start over," he says. "I remind them of what they have already accomplished and then they feel better."
Aaron Alfaro, 17, attends King-Chavez Charter High School. Since February, he has been interning at the Gary and Mary West Senior Wellness Center from 9:30 a.m. to noon Monday through Thursday. His job: teaching older adults at the center's Cyber Cafe how to use the computer. He's one of a handful of high school students who come to the center each day and are outnumbered by their mostly eager students.
"Each time I come in, there are more people waiting as soon as the doors open," he says. "Sometimes the classes are booked a week ahead of time."
The teen instructors work... Continued

Making the Connection:Grandparents Raising Grandchildren
By County of San Diego Health and Human Services
..Would you believe there are more than 24,000 grandparents in San Diego County who have primary responsibility for meeting their grandchildren's daily needs? As surrogate parents, they must re-learn and navigate a complex network of health, educational and social services, often making the journey alone. As part of the Live Well, San Diego! 10-year initiative to build better health in the region, the County of San Diego's Health & Human Services Agency, First 5 San Diego and community partners hosted a Grandparents Raising Grandchildren event to help these families connect with the services and assistance available to them.
More information comming soon

Taking Medications and alcohol? ...