..For generations, grandparents have passed down life lessons to their grandchildren, from teaching them how to throw and catch a ball, and baseball tricks to how to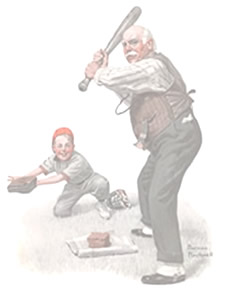 bake cookies; but today's world is much more complicated and economic difficulties and societal changes, including widespread substance abuse, have thrust many grandparents into roles as surrogate parents to their grandchildren. To protect their grandchildren, many grandparents must immediately learn to navigate a complicated, fast-changing world where synthetic drugs are sold in convenience stores and sexual predators prowl social networking web sites.
In the San Diego region, of the 66,000 older adults living with their grandchildren, approximately 24,000 are primarily responsible for their grandchildren's daily needs.
Grandparents raising their grandchildren reside throughout our region, and come from all walks of life, ethnicities and income levels. The majority are married, below the age of 55 and part of our labor force. In order to meet their grandchildren's needs, they must navigate a complex network of health, educational and social services, oftentimes without any assistance. The children they are caring for may have difficult physical, behavioral and emotional problems, often due to the challenging situations that led to their placement with their grandparents. Grandparents face challenges in establishing their authority to make medical and educational decisions for their children. As a result, grandparents are often unable to access information from schools or medical and social service benefits on behalf of their grandchildren. They are not eligible for child support, unless they become their grandchildren's formal guardian.
There are currently some services available to assist grandparents, like the YMCA's Kinship Navigator Program (funded through a three-year federal demonstration project) and YMCA respite services funded by Aging & Independence Services utilizing federal funding. The YMCA has noted a significant waiting list for their services and the need for support and assistance far outstrips the available resources. The majority of the grandparents they are serving need information about available services, programs and resources in their community, and also need assistance in accessing these services and programs.
Grandparents often identify a need for financial assistance, respite care, and help dealing with governmental agencies to access benefits for their grandchildren. More than a third of the grandparents also communicate a need for childcare and assistance to address their grandchildren's emotional and/or behavioral problems and a fourth indicate a need for legal assistance in order to best fulfill their responsibilities to their grandchildren.
In light of these issues, it is necessary to seek broad community input to identify the needs of these grandparents and to create a network of resources and support to assist this population. HHSA would provide leadership for this effort from Aging & Independence Services, and include other departments such as Veterans Services, Child Welfare Services, Child Support Services, Public Health, Mental Health, Alcohol and Drug Services, Probation, Housing and Community Development, Strategic Planning and Operational Support, regional general managers and partners such as the Commission on Children, Youth and Families, First 5 Commission, 2-1-1 San Diego and the YMCA Kinship Navigator Program to develop a strategic plan to address these needs. Please call 1-800-510- 2020 or 2-1-1 for more information.
"These grandparents have made numerous sacrifices to provide a better life for their grandchildren," said Greg Cox, Vice-Chairman, San Diego County Board of Supervisors. "We need to make sure they are aware of and connected to all the services available to them."
For more information please call: 1- 800-510-2020
Revised August 2013