"Tobacco use is leading preventable cause of death worldwide. Help stop a global killer –nearly 6 million deaths a year." Surgeon General Report. Regina Benjamin, MD
Want to Quit? Call Now: 1800 NO BUTTS
MEDICATIONS
For grandchildren who have been raised by grandparents, it is a really wonderfulexperience. It's a really moving experience, that may play in the heart a very special piece of music. One suggestion would be "Wonderful World" by Louis Armstrong, who spent the first years of his life with his grandmother, Josephine Armstrong.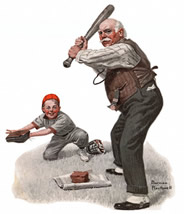 Grandparents Raising Grandchildren
By Greg Cox, San Diego County Board of Supervisors
..For generations, grandparents have passed down life lessons to their grandchildren, from teaching them how to throw a baseball to how to bake cookies. But...
Today's world is much more complicated and economic difficulties and societal changes, including widespread substance abuse, have thrust many grandparents into roles as surrogate parents to their grandchildren. To protect their grandchildren, many grandparents must immediately learn...
It's important for the public to know West Nile virus is a dangerous and potentially deadly disease. The risk of complications increases for those over age 50, and people with weakened immune systems.