THIS ARTICLE IS AVAILABLE IN SPANISH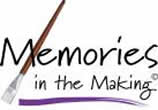 WHAT IS MEMORIES IN THE MAKING™?
Memories in the MakingTM is a therapeutic art program tailored to the needs and limitations of persons diagnosed with Alzheimer's disease. Classes are offered weekly at 20 residential facilities and community centers around San Diego. During each session, a volunteer artist guides and supports the participants as they paint with watercolors or draw with pastels. The encouraging environment allows the artists with Alzheimer's to focus on their creative processes.
Art is an empowering communication tool for persons with Alzheimer's disease. The program participants often paint memories from long ago or thoughts that they can no longer find words to express. As Selly Jenny states in her book Memories in the Making, "art taps directly into both motor skills and emotions without the need for an ongoing memory, as required by conversation. Art is a method that actively provides a means for expression of emotions and feelings."
Memories in the MakingTM began in 1988 when Selly Jenny and Marilyn Oropeza teamed up with the Alzheimer's Association of Orange County. They sought to create a unique way for
persons suffering from dementia to record their feelings and to reminisce through art. Today in San Diego, the program involves nearly 400 individuals with Alzheimer's every year, and thousands of paintings are created.
Each spring the Alzheimer's Association San Diego/Imperial Chapter hosts an annual gala and auctions about 50 pieces of art created through the Memories in the MakingTM art program. The gala honors the artists and their families, and the money raised helps the Chapter provide free educational and family support programs throughout the community. At the same time the Alzheimer's artists paint memories from the past, they are taking part in our goal for the future – a world without Alzheimer's disease.
Memories in the Making: Art classes for people with memory problems meet each Wednesday morning at Casa Familiar in San Ysidro.The participants will have the opportunity to communicate its memories and emotions, and simultaneously will participate in a very pleasurable form of free expression. By means of this process we tried to increase in the artist sense of self-esteem and dignity. If you know someone who may be interested please let them to know.
With our Support Group for the Family Caregivers We help the members of the family and the caretakers who are also confronting the many challenges of the Alzheimer's disease. It allows the participants to obtain new perspective, and to share new knowledge and experiences. This program is offered in collaboration with Casa Familiar and the San Ysidro Health Center. Sponsored in part by The California Endowment.
For more information call

619.428.2877or 1-800 272 39000
Murphy Canyon Road Suite 250
San Diego, CA 92123

TEL- 619-427-4111 Email - Health@infooption.com
Salud+HealthInfo is for information and educational purposes only. You should not rely on this information as a substitute for personal medical attention, diagnosis or hands-on treatment. If you are concerned abut your health or that of a child, please consult your family's physician or health provider immediately and do not try to diagnose yourself.
Copyright © 2001-2006 Info Option Network