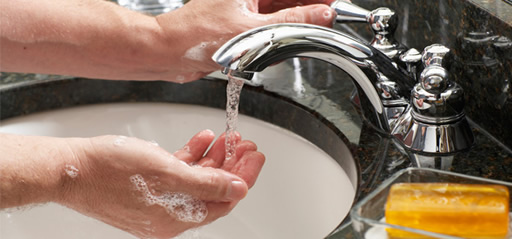 Importance of Hand Washing
Sometimes the simplest things are the best. Take hand washing. Done properly and often, it's a good habit and a great way to help protect yourself and those around you from colds and flu.
According to the Center for Disease Control, hand washing is the single most important act people can do to prevent getting sick and making others sick.
It is estimated that 5,000 people die each year from food borne illness. In addition, 78 million become ill and between 79,000 and 96,000 die from hospital infections each year. A direct link to many of these deaths is poor hand washing.
Hand washing is important for food safety, disease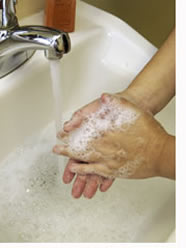 prevention and personal health. Though it might seem like a common practice, it is important for people to remember to wash their hands before eating and after using the bathroom, during and after preparing food, after handling animals or animal waste, after playing sports, after changing diapers and anytime hands are dirty.
"Washing your hands properly and often reduces the amounts of germs on your hands, which reduces the spread of diseases like colds and flu," said Nancy Bowen, M.D., County of San Diego Public Health Officer. "It should be done all year long, not just during flu season.
"Because it's such a simple act, it may be taken for granted," Dr. Bowen added. "People may not wash their hands as often or as thoroughly as they should. Thorough hand washing should be done before handling food, after going to the bathroom and anytime your hands get dirty."
County of San Diego Health officials advise washing your hands for at least 20 seconds, using soap and warm water and scrubbing all surfaces of the hands and fingers thoroughly. If soap and warm water aren't available, a hand gel with at least 60 percent alcohol can be used.
Frequent and correct hand washing is just one way to protect your health and those around you. You should also stay away from sick people whenever possible, cover your nose and mouth with a tissue or your sleeve whenever you cough or sneeze, and stay home when you are sick. Other good health habits include getting regular exercise, enough rest, and maintaining a proper diet with plenty of fresh fruits and vegetables.
Of course, one of the best ways to prevent the flu itself is to get a flu vaccination each year. It's not too late to get one!, as flu season often lasts until March or later.

Salud+HealthInfo is for information and educational purposes only. You should not rely on this information as a substitute for personal medical attention, diagnosis or hands-on treatment. If you are concerned abut your health or that of a child, please consult your family's physician or health provider immediately and do not try to diagnose yourself.
Copyright © 2001-2013 Info Option Network