It's never too early to
start planning your next adventure!
By: The U.S. Department of Interior
America's public lands can provide awesome experiences. We can take in the great scenery of our natural landscapes, learn about our nation's rich history, and enjoy the great outdoors -- our nation's public lands have so much to offer!
Every year, the Interior Department and other land-management agencies make it easier to visit these special places by offering free admission to the public lands that charge an entrance fee. Check out our blog post for a list of this year's dates and start planning your trip today.
Chula Vista Residents With Fruit Trees Are Needed
By: Healthy Chula Vista Initiative, City of Chula Vista
Healthy trees have a better yield and can help feed the hungry of South Bay. Do you have a fruit tree in your back yard? If you do then we need your help. Sign up now and assist us in feeding South Bay's hungry.
Many backyard fruit trees and vegetable gardens yield more than their owners need. This "extra" produce then falls to the ground and goes unused.
| | |
| --- | --- |
| | Supervisor Ron Roberts. Photo by Salvatore Giametta |
Healthy Heart disease is the leading cause of death in the United States, killing one person every minute. In San Diego County, it has dropped to second place, next to cancer, but there is still much work to be done. Obesity, high blood pressure, high cholesterol, diabetes and a family history of heart disease all can put an individual at greater risk.
UC San Diego researchers receive funding
to develop Zika, cancer treatments
Researchers at the University of California, San Diego School of Medicine were recently awarded with a pair of $2 million grants to support research investigating new treatments for Zika virus infection and the use of stem cell-derived natural killer cells against ovarian cancer and other malignancies, according to a press release. One of the $2 million grants, which were awarded by the Independent Citizens Oversight Committee of the California Institute for Regenerative Medicine, will fund the study of FDA–approved antiviral drugs for other infectious diseases against Zika virus infection. Alysson R. Muotri, PhD, professor in the UC San Diego School of Medicine departments of pediatrics and cellular and molecular medicine, and director of the UC San Diego Stem Cell Program, said in the release that preliminary findings in cellular and animal models have already shown promise.
"There is urgent need to move as quickly as we can into clinical trials and, hopefully, find an effective treatment," he said. "This is especially true of infected mothers where a Zika infection during the first trimester of pregnancy appears to pose the greatest risk of congenital microcephaly."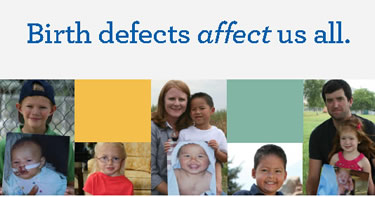 Photo: U.S. Department of Health and Human Services (HHS)
Birth defects are more common than you'd think.
Did you know that birth defects are common? Birth defects affect 1 in 33 babies every year and cause 1 in 5 infant deaths. For many babies born with a birth defect, there is no family history of the condition.
The Birth Defects Prevention Month theme for 2017 is: "Prevent to Protect: Prevent Infections for Baby's Protection.