County Kick Off 2013 West Nile Virus Prevention Campaign
....County Board of Supervisors Chairman Greg Cox, Chris Conlan Supervising Vector Ecologist at County of San Diego , and Deputy Public Health Officer Dr. Eric McDonald, kicked off the County's 2013 West Nile virus prevention campaign by reminding people how they can protect themselves from the potentially-deadly disease.
Last year marked one of the worst on record for West Nile virus both in California and across the Country — but not here, where the County of San Diego has taken strong steps to control mosquitoes that spread the disease and strongly encouraged the public to join the fight by using the County's "Protect, Prevent, Report" campaign cry.
Cox, McDonald and County environmental health officials held a press conference at Hollister Pond in Chula Vista, one of more than 200 waterways that the County routinely treats with granular larvicide dropped by helicopters to kill mosquito larvae during West Nile virus season.
West Nile virus is mainly a bird disease that can be spread to people when a mosquito feeds off an infected animal and then a human.
Across the U.S. in 2012, more than 5,000 people got West Nile virus and 243 people died. In California alone, 451 people got sick and 16 people died. By contrast, just one man was diagnosed with West Nile virus in San Diego County last year. He did not get sick, but was diagnosed when he went to donate blood.
Cox and McDonald said the County would continue its aerial larvicide applications and other efforts, including: hand-treating more than 2,000 other potential mosquito breeding grounds; searching for and treating neglected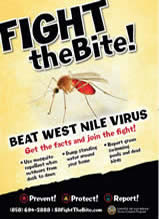 "green" swimming pools; giving out free mosquito-eating fish; providing educational material to children and the general public; and using texts and social media to provide the public with West Nile virus updates if needed.But McDonald urged people to continue to help protect themselves by following the County advice:
"Protect yourself and your family from mosquito bites. Stay inside if you can between disk and dawn — when mosquitoes are most active. Wear long sleeves and pants when you're outside. Use insect repellant that contains DEET, picaridin, oil of eucalyptus or IR3535 when you're outside. Check the screens on your doors and windows to make sure they're not ripped or torn."
Prevent mosquito breeding by looking around your back yard and emptying out items that collect standing water — from toys to pots to buckets and old tires.
Lastly, Report dead birds, which can carry the virus, and green swimming pools, which can become mosquito-breeding grounds, to the County's Vector Control Program. For more information about West Nile virus and how to protect yourself, call (858) 694-2888 or visit:
The San Diego County Vector Control Program (VCP) is a branch within the County of San Diego - Department of Environmental Health. A "vector" is an animal or insect that can carry and pass on a human disease. Some examples of vectors in San Diego County are mosquitoes, ticks and rodents.
The VCP works in the county of San Diego to monitor and control vectors and the diseases that they carry. The VCP has been reducing and controlling mosquitoes and other vectors since the 1930's.
For more information proceed to the Vector Control Program Page