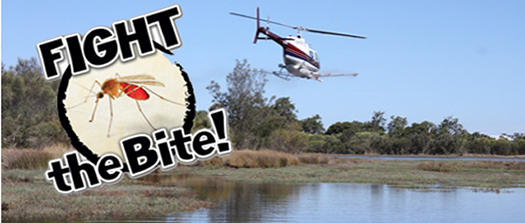 Aerial applications of mosquito larvicide throughout the county
---
...San Diego County Vector Control Program conducted aerial applications of mosquito larvicide at various wetlands throughout the County on Wednesday, June 5, 2013.
...The County of San Diego Vector Control Program contractor applies mosquito larvicide by helicopter to wetlands in an effort to reduce the mosquito population and the risk of West Nile virus. Female mosquitoes can lay up to 200 eggs at a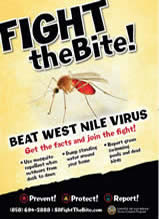 time in the still water found in wetlands. These eggs hatch into larvae which feed on organic material.
Larvicides are made from bacteria that are specific to mosquito larvae and will not harm other wildlife. This results in the efficient elimination of larvae before they can develop into biting adults which can spread diseases such as West Nile virus.
...This was the third aerial drop of mosquito larvicide for the 2013 mosquito breeding season. Mosquito populations have begun to rise with the warmer weather. Additional applications may be conducted at three to four week intervals or as needed. Mosquito populations are monitored and tested for the presence of West Nile virus and other mosquito-borne diseases throughout the county during the mosquito season.
Controlling mosquito abundance is essential in preventing the spread of West Nile virus and other mosquito-borne diseases. Remember: the best protection against this virus is to prevent mosquito breeding and mosquito bites.
---
...For more information about West Nile virus and how to protect yourself, call: (858) 694-2888 or visit:
The San Diego County Vector Control Program (VCP) is a branch within the County of San Diego - Department of Environmental Health. A "vector" is an animal or insect that can carry and pass on a human disease. Some examples of vectors in San Diego County are mosquitoes, ticks and rodents.
The VCP works in the county of San Diego to monitor and control vectors and the diseases that they carry. The VCP has been reducing and controlling mosquitoes and other vectors since the 1930's.
• For more information proceed to the Vector Control Program Page