....The California Department of Public Health has announced that a Sacramento County male has become the first human in the state to die from the West Nile virus this year. His illness, as well as his laboratory test results, are potentially consistent with West Nile neuroinvasive disease. Details about the man were not released because of health privacy laws.Last year, California saw 479 human West Nile virus cases, with 20 deaths
Other counties – Merced, Los Angeles, Fresno, Orange, Ventura and Yuba – already had reported the presence of the virus in a total of 10 dead birds.
"Finding the first positive birds is always significant because it pro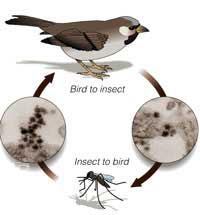 vides an early warning sign for the disease," said District Manager David Brown.
Dead birds in an area may mean that West Nile virus is circulating between the birds and the mosquitoes in that area. In Sacramento County, the birds and mosquitoes were collected over a widespread area, so there's no reason to worry that a particular neighborhood is at risk, officials said.
San Diego County Vector Control is testing selected dead birds for West Nile virus. If you find a dead bird, please notify immediately at 1-888-551-INFO (4636), or click HERE to alert vector staff for bird collection.
Sources of information: http://westnile.ca.gov
: "Sacramento County Reports First 2013 Human Death of West Nile Virus" (Sacramento Bee, 6/9).