..Three children at different schools contracted pertussis, also known as whooping cough, and may have exposed others to the highly contagious respiratory disease, according to County Health and Human Services Agency (HHSA) officials.
Students and staff were notified of the potential exposure to whooping cough so they could watch for symptoms. A typical case of pertussis starts with a cough and runny nose for one to two weeks, followed by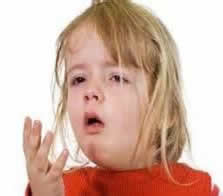 weeks to months of rapid coughing fits that sometimes end with a whooping sound. Fever, if present, is usually mild. The disease is treatable with antibiotics.
"The reason this disease continues to be of concern is that infants under one year old are especially vulnerable and can develop life-threatening complications. Tragically, two infants in San Diego County died during the 2010 epidemic," said Wilma Wooten, M.D., M.P.H., County Public Health Officer. "Often people who have pertussis never realize they have it and may unknowingly expose babies. Vaccinations continue to offer the best protection against this illness."
The Centers for Disease Control and Prevention recommends that children get the DTaP vaccine series at the following ages: 2 months, 4 months, 6 months, 15 to 18 months, and 4 to 6 years. The Tdap booster shot is recommended for preteens and adults, including pregnant women. The ultimate goal is to prevent death that can result as a complication of pertussis. Infants under one year old are especially vulnerable and can develop life-threatening complications.
Parents with children who had close exposure to someone with whooping cough should contact their primary care physician. The vaccine series and the Tdap booster shot are available through most healthcare providers. Local retail pharmacies also offer vaccinations for a fee, and anyone without medical insurance can get the shots from a County Public Health Center at no cost.
For more information about whooping cough and ongoing vaccination clinics, call the HHSA Immunization Branch at (866) 358-2966, or visit www.sdiz.org.