Seniors • Disabled adults • Caregivers • Abused Adults
.....As we get older, living on our own and taking care of ourselves can get harder. Twenty years from now, one in every five persons in the U.S. will be an older adult, and 85% of adult over the age of 45 say they'd rather stay in their own homes. Keeping active, connected with your community, eating a balanced diet, and seeing a doctor regularly can help you stay healthy and to enjoy a better quality of life.
• Get connected!
Aging and Independence Services (AIS) provides services and nationally recognized programs to help older adults stay healthy, independent and to live a better quality of life.
• Live better, live well!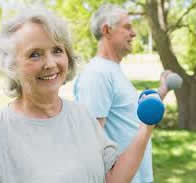 Join a Local Feeling Fit Club!
You can be part of the Feeling Fit phenomenon! The clubs offer social interaction and build self-esteem in a relaxed, non-threatening environment. Participants say they have better balance, greater strength and flexibility, enhanced sleep, improved mood, better digestion, more relief from arthritis and more resistance to chronic illnesses. To join a class near you, call (858) 495-5500, ext. 3 and leave your name, number and address.
• Live better, healthier and stronger !
Sign Up for "Healthier Living" Classes
The County coordinates interactive and goal-oriented workshops called "Healthier Living " for people with chronic health conditions. Caregivers are also welcome to attend. Workshops are held once a week for six weeks. For more information, sites, hours and to register contact Kyra Reinhold at kyra.reinhold@sdcounty.ca.gov, or call (858) 495-5710
• Are you providing care to a love one?
Stay tuned for tips, advice and guidance to make life easier and better with... Online Seminars for Caregivers!
A series of live streaming seminars about caring for loved ones are offered free by the San Diego Caregiver Coalition at noon on selected Fridays. These webinars benefit adult children of aging parents, caregiving spouses and professionals in the field of health and aging. Each interactive seminar lasts half an hour. All you need to participate is Internet access and email.To register, visit www.caregivercoalitionsd.org. For more information, contact Marty Dare at martin.dare@sdcounty.ca.gov

Aging Summit 2014 Supervisor Dianne Jacob
To better serve older adults living in San Diego, AIS has many strategies for obtaining public input, seeking the widest possible array of opinions and gathering information about the needs of older adults and disabled individuals. One of the more significant is the Vital Aging Conference. AIS coordinates the Vital Aging event every other year to spotlight elements of health and well-being for older adults.This conference brings experts in health and activity fields to encourage seniors attending the event to live vital lifestyles.
Save the Date: June 17, 2015
The date for Vital Aging 2015 conference has been set for Wednesday, June 17. Please put this on your calendar. This year's theme is "Boosting Your Brainpower" and will focus on brain health.
The free conference will be held at McMillin Center in Liberty Station, 2875 Dewey, San Diego 92106; and at the California Center for the Arts, Escondido, 340 N. Escondido Blvd., Escondido 92025. More details about Vital Aging 2015 will be shared in future Aging & Independence bulletins.
To get on the mailing or email list for the Aging & Independence bulletin and Safe Seniors newsletters, email : Denise.Nelesen@sdcounty.ca.gov

For more information about resources for older adults and persons with disabilities, call 800-510-2020.