...
.It's Mosquito
...... Season Again!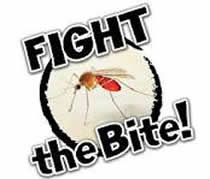 .... Warmer temperatures and the end of the Spring showers might left more than the blooming of flowers and aromatic herbs in our gardens and balconies. It might also cause standing water where mosquitoes can breed, growth and bite!
....The last week of April was declared: "West Nile virus and Mosquito & Vector Control Awareness Week" by the California legislators as the kicks off mosquito and West Nile virus season, as well as the start of a public information and education campaign to keep residents safe and aware about the health risks associated with mosquitoes.
...."San Diego County Vector Control Program (VCP), reminding us all to be smart and protect ourselves from the potentially-fatal disease. With larvicide drops, education and prevention, has done a good job of warding off West Nile virus, with zero human illnesses in 2010 and 2011 and just one batch of mosquitoes testing positive in 2011. But with 158 illnesses and nine deaths statewide in 2011, West Nile virus remains a threat. So far, our efforts have paid off here in San Diego County," said Supervisor Greg Cox. "But we need to stay vigilant. Diseases like West Nile virus can strike anywhere, anytime. Fortunately, all of us can take an active role in protecting ourselves and the community." Cox said.
The County would continue to do its part: using helicopters and other equipment to drop mosquito-larvicide into ponds and water sources; looking for "green" pools that could become mosquito breeding grounds; giving out free mosquito-eating fish; and visiting schools and health fairs with West Nile virus posters and educational materials.
County Environmental Health officials said the public can also help, by remembering and acting upon this phrase:

• Prevent Mosquito Breeding:
Backyard water sources are ideal breeding grounds for mosquitoes. Residents should dump or remove anything that can hold water, such as plant saucers, rain gutters, buckets, trash cans, children's toys, old spare tires and wheelbarrows. Mosquito fish may be used to control mosquito breeding in backyard water sources such as unused swimming pools, ponds, fountains and horse troughs. You can get free mosquito fish from the Vector Control Program, 858-694-2888.
• Protect Yourself from Mosquito Bites:
Protect yourself from the virus by staying inside when mosquitoes are most active, between dusk and dawn, and by wearing long sleeves and pants when outdoors. Use insect repellents containing DEET, Picaridin, Oil of Lemon Eucalyptus or IR 3535 when you are outdoors. Make sure window and door screens are in good condition and are secured.
• Report dead birds and green swimming pools:
Please report green swimming pools to the Vector Control Program for treatment. The County provides free mosquito fish to control mosquitoes in backyard water sources including green swimming pools. Also report dead crows, ravens, jays, hawks, and owls to be tested for the virus. Contact the County at 858-694-2888.
For information about West Nile virus and how to protect yourself, call 858-694-2888 or visit:


The San Diego County Vector Control Program (VCP) is a branch within the County of San Diego - Department of Environmental Health. A "vector" is an animal or insect that can carry and pass on a human disease. Some examples of vectors in San Diego County are mosquitoes, ticks and rodents.
The VCP works in the county of San Diego to monitor and control vectors and the diseases that they carry. The VCP has been reducing and controlling mosquitoes and other vectors since the 1930's.
For more information proceed to the Vector Control Program Page